CCG Catalyst invites you to their first industry event, exclusively for today's bank executives!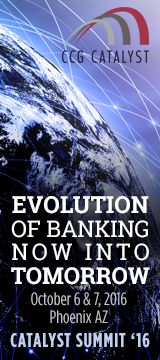 PHOENIX – CCG Catalyst Consulting will hand select fintech startups to present their ground-breaking ideas at the Catalyst Summit 16'. Fintech startups will only be a portion of the transformative event hosted by CCG Catalyst on October 6th and 7th at the Wild Horse Pass Hotel and Casino in Phoenix, Ariz. In this time of disruption to the banking industry, how does a bank move forward? The Catalyst Summit will prepare bank executives for the next generation of banking. The pressures of the industry will convert to modern ideas — transforming the business of banking and preparing bank management for the future.
This is the summit that all bank executives need to attend!
"Today's forms of banking no longer apply and business disruptors have become more challenging. Catalyst Summit provides an opportunity to learn new forms of thinking to transform the traditional banking business model from bank executives. CCG Catalyst Summit: Evolution of Banking Now into Tomorrow. CCG Catalyst Summit promotes out-of-the-box visionary thinking to spark transformation for banking executives."
CCG Catalyst, a leader in bank strategic consulting designed the Catalyst Summit to help bank executives with strategic planning and planning for the future. Catalyst Summit will offer unparalleled insightful knowledge, a fresh curriculum and discussions covering current topics.
Together we will share in an educational experience that will provide new strategies to help transform your business.
To attend register today! For further questions and information regarding the Catalyst Summit please contact:
Tery Spataro
Executive Vice President, Director of Innovation, Project Catalyst
teryspataro@ccg-catalyst.com | 800-439-8710 ext. 245
ABOUT CCG CATALYST
CCG Catalyst is a leading management consulting firm connecting bank strategy to innovation, transformation, and disruption. We advise our clients on the direction of banking, development of the strategy and managing the disruption related to the execution of the tactics. CCG Catalyst leverages decades of deep industry experience to provide practical business strategies and organization, analytics, and technology consulting for our clients.
We are a team delivering you competence based upon proven experience in Strategy, Payments, Organizational, Optimization, Technology, M&A and Risk & Regulatory Compliance. We solve problems, validate a positioning, and provide strategic point of view and direction.
Project Catalyst is a forward-thinking research lab created to serve banks and fintechs through pioneering strategic methods and research to aid in new business ideas that will help stimulate change in to the business of banking.
CCG Catalyst is headquartered in Phoenix, AZ, with consulting offices across the U.S