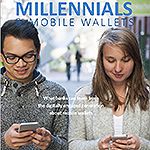 Phoenix, AZ – June 27, 2016 – Millennials are driving innovation in the fintech space and many traditional financial institution applications miss the mark with the younger generations, leaving them to consider financial products and services from nontraditional sources.
Millennials and non-millennials are very similar in their need to keep a watchful eye on spending and paying bills. However, millennials, if they have any spare money, prefer to use digital funds, increasingly stored in a mobile wallet. Overall both consumers carry less cash today than ever.
In new study by Project Catalyst, uncovers millennials and their use of mobile wallets, gathers perceptions, behaviors and attitudes of this cohort, which represents 75.3 million people born from 1982 to 2000, and their involvement with banking and mobile wallets.
Millennials, often coveted by retailers and marketers, have specific preferences when it comes to payment tools. Not surprisingly, they use newer payment methods, including mobile wallets, at a higher rate than the general population. They rely on their phones heavily and use technology in ways that enhance their everyday lives. This generation also wants to digitize all commerce through their mobile device.
Mobile wallet technology, available since 2010, is surging in usage. As mobile wallets acceptance by millennials and non-millennial increases, retailers have an important role in creating confidence in its usage.
There is a challenge for financial institutions as well with the usage of mobile wallets. When millennials were asked preference for a mobile wallet, millennials are more inclined to prefer non-financial institutions' offering for an m-wallet.
If a bank were to offer customers a bank branded mobile wallet, banks will be competing with these well known mobile wallet providers: Apple and Android.
Millennials and Mobile Wallets is filled with 39 pages of analysis and insights on the behavior millennials have with using mobile wallets and their thoughts on a bank mobile wallet, comparison between millennials and non-millennials, predictions of usage, and 33 graphs illustrating the analysis of our findings.
Report Contents:
Overview – extensive summary of findings
Purpose – defines the reasons and method used in this discovery
Demography – household income, education, career, ethnicity, employment
Behaviors and Attitudes – millennials use of mobile wallets
Landscape – impression of state of mobile usage
Preferences – choices for smartphone, mobile wallet brands
Barriers to Usage and Trust
Comparisons – millennials and non-millennials use of mobile, banks and mobile wallets
Predictions – millennials usage of mobile wallets
Insights and Recommendations
33 graphs and several images
The full report, Millennials and Mobile Wallets, is available for purchase for $495, by clicking download.
For the abstract click here.
Questions or further information regarding this study please contact:
Tery Spataro
EVP, Director of Innovation, Project Catalyst
teryspataro@ccg-catalyst.com | 800-439-8710 ext. 245
ABOUT
CCG Catalyst is a leading management consulting firm connecting bank strategy to innovation, transformation, and disruption. We advise our clients on the direction of banking, development of the strategy and managing the disruption related to the execution of the tactics. CCG Catalyst leverages decades of deep industry experience to provide practical business strategies and organization, analytics, and technology consulting for our clients.
We are a team delivering you competence based upon proven experience in Strategy, Payments, Organizational, Optimization, Technology, M&A and Risk & Regulatory Compliance. We solve problems, validate a positioning, and provide strategic point of view and direction.
Project Catalyst is a forward-thinking research lab created to serve banks and fintechs through pioneering strategic methods and research to aid in new business ideas that will help stimulate change in to the business of banking.
CCG Catalyst is headquartered in Phoenix, AZ, with consulting offices across the U.S.