We separated respondents concerns into three categories: products, business and other. They are slightly (3.252%) more concerned with the business of the bank over the bank products.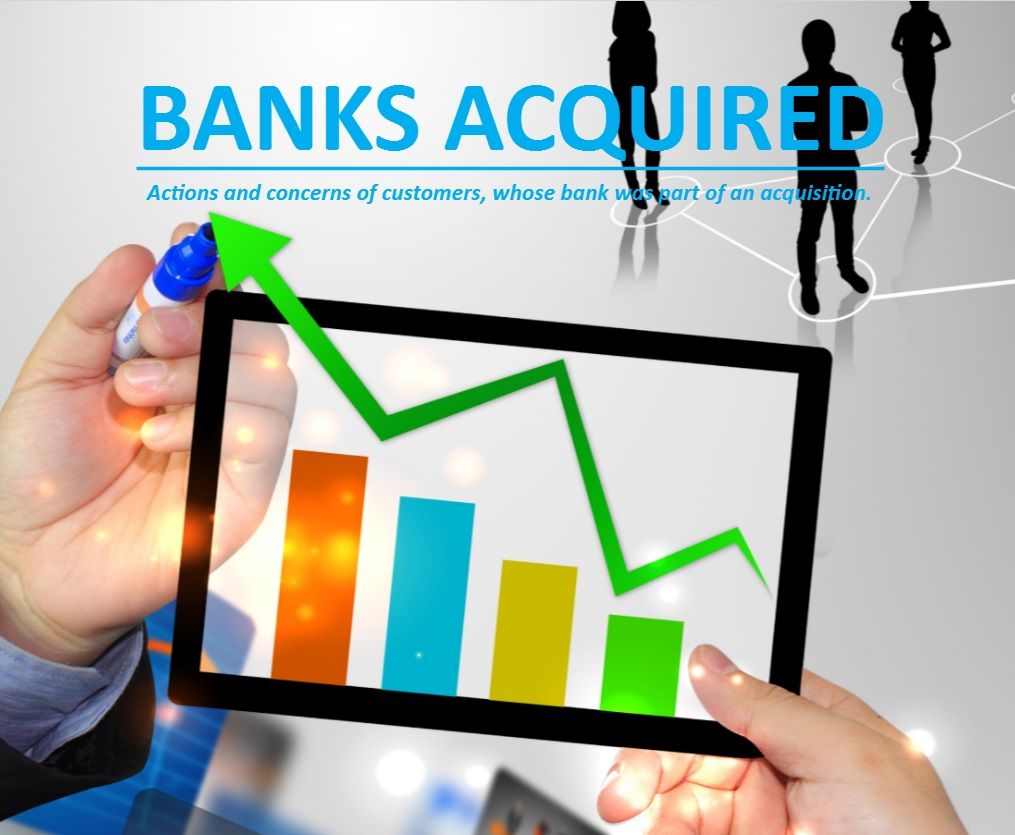 PHOENIX – Using SNL, Project Catalyst — a leading management consulting firm — identified 21 of the 35 recently acquired U.S. banks, and surveyed 100 bank customers who experienced an acquisition of their bank. The research unveils insights about the banking customer's attitude toward the acquired bank, which helps bank executives understand the account holder's viewpoint during and after the merger and acquisition process. Research conducted by Project Catalyst took place on April 26, 2016.
"Future of banking is dismal; personal customer service will continue to rapidly disappear until it is non-existent; everyone will be a faceless number and everything will be paperless and online — so sad." – Male, age 58, CNL Bank, closed account.
Mergers between U.S. banks could hit the highest level in a decade this year, and with the majority of customers reacting emotionally to bank acquisitions, it's important to understand how negative and positive emotions erupt.

Customers from banks from 17 different states were surveyed: Alabama, Arizona, California, Florida, Georgia, Kentucky, Michigan, Minnesota, Missouri, New York, North Carolina, Ohio, Pennsylvania, South Carolina, Tennessee, Texas and Washington.
The survey, comprised of nine multiple-choice questions, asked customers specific questions about their habits, behaviors, and actions with their financial institution.
(98%), or a savings account (80%), and a credit or debit card (84%) with their financial institution.

Only a quarter (25%) of the respondents had an IRA or investment account with their bank.

We also learned many respondents' behavior was to conduct business through the bank's online banking product (38%).

Only 25% of the respondents visit the bank's branch frequently, and fewer noted that the branch staff knew the respondent by name. Even fewer (10%) had a relationship with a personal banker or officer, and some respondents (10%) said they had no relationship with the bank and felt like they were just a number.
The findings from this research provides:
The customer relationship with the acquired bank
Customer actions and concerns about the acquired bank
How to reassure customers during the acquisition process
For further questions and information regarding this study please contact:
Tery Spataro, Executive Vice President, Director of Innovation, Project Catalyst
teryspataro@ccg-catalyst.com | 800-439-8710 ext. 245
ABOUT CCG CATALYST
CCG Catalyst is a leading management consulting firm connecting bank strategy to innovation, transformation, and disruption. We advise our clients on the direction of banking, development of the strategy and managing the disruption related to the execution of the tactics. CCG Catalyst leverages decades of deep industry experience to provide practical business strategies and organization, analytics, and technology consulting for our clients.
We are a team delivering you competence based upon proven experience in Strategy, Payments, Organizational, Optimization, Technology, M&A and Risk & Regulatory Compliance. We solve problems, validate a positioning, and provide strategic point of view and direction.
Project Catalyst is a forward-thinking research lab created to serve banks and fintechs through pioneering strategic methods and research to aid in new business ideas that will help stimulate change in to the business of banking.
CCG Catalyst is headquartered in Phoenix, AZ, with consulting offices across the U.S